FOR IMMEDIATE RELEASE
Kohler Properties chose Glory cash automation products
Oct 3rd 2017
---
Mequon, WI - October 3, 2017
Data Financial, Inc. is announcing the completed installation of cash management and recycling systems for Destination Kohler in Kohler, WI. Destination Kohler properties include the American Club, Whistling Straits Golf Course, Blackwolf Run Golf Course and The Shops at Woodlake. An additional installation was completed at Lodge Kohler (Titletown Plaza) in Green Bay, WI in advance of the opening of the NFL season and first Green Bay Packer game in 2017. Data Financial, Inc. installed both the GLORY CI-300 Currency Recycler and the GLORY CI-100C Coin Recycler in the Kohler properties.
The Glory Global Solutions CI-300 and CI-100C provide a multi venue retail establishment such as Kohler the ability to streamline back office cash settlement processes, offering till replenishment and easy end of day balancing. The CI-300 and CI-100C excel at providing increased security while reducing the need for manual handling of currency and coin. Typically, the recyclers are centrally located giving easy access to the employees responsible for handling cash transactions. Starting cash and end-of-shift activities are managed expediently and securely providing Management opportunities for comprehensive oversight of cash levels and ongoing activity throughout the day.
"We are privileged to be a vendor to Kohler, the premier hotel, hospitality and golf destination in the Midwest," said James Holtz, President and CEO of Data Financial, Inc. "We truly appreciated Kohler's dedication to the success of this project," Holtz said.
"How cash is managed and moved in retail and hospitality environments has changed dramatically within the past couple of years," Holtz said "Frankly, every business that handles cash is either considering or investing in the automation solutions we offer in partnership with Glory Global Solutions. We now know that it's not so much if, but when, cash recycling and automation systems will replace manual cash rooms and operations," Holtz continued.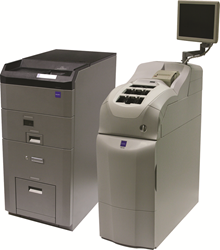 The accuracy, efficiency and security of the CI-300 and CI-100C provides assurances to both employees and management. Cash recycling installations offer process improvements in virtually every environment where cash is handled; retail, grocery, restaurant, theme parks, casinos, hotels, and stadiums. In some retail environments such as truck stops and motor plazas the CI-300 and CI-100C have provided a safe and efficient way to move cash even in transient and busy areas. "Our customers with multiple points of sale in their organizations have demonstrated remarkably short returns on their investments," Holtz said.
Glory Global Solutions recycling products are widely known and respected throughout financial markets. More than 70% of all cash recycling systems installed in US financial institutions are manufactured by Glory with the same technology and engineering expertise utilized in the CI-300 and CI-100C. Cash recycling products enable cashiers custom verification creating opportunities for tracking all deposits of mixed currency and coin into the machines. The CI-300 authenticates currency for fitness and counterfeit properties, if accepted the recycler sorts and deposits bills into secure cassettes within the cash vault.
About Data Financial, Inc.
Founded in 1983, Data Financial, Inc. provides products, systems solutions, and custom software to retail, hospitality, gaming, financial and commercial customers. The company offers consultation, custom software, and a wide selection of cash handling products for all industries, including the full line of Diebold-Nixdorf ATM products. Data Financial, Inc. represents most major manufacturers and offers technical support throughout the United States. The company is headquartered in Mequon, WI.
About Destination Kohler
The American Club, a world-class destination, is listed on the National Register of Historic Places and has received the AAA Five Diamond Resort hotel recognition for 30 consecutive years. It is the only Forbes Five-Star hotel in Wisconsin and one of 52 in North America with this designation. Destination Kohler is home to championship golf courses at Whistling Straits and Blackwolf Run, eleven dining outlets, The Shops at Woodlake, River Wildlife, Sports Core and other resort properties. Destination Kohler is located in the Village of Kohler, Wisconsin, 55 miles north of Milwaukee and two and a half hours north of Chicago.