FOR IMMEDIATE RELEASE
Data Financial, In., a Wisconsin based supplier of specialized products for the gaming industry, is celebrating ten years of growth with eWizPro, the company's electronic gaming chip fill/credit and slot jackpot system for cage and count room operations.
Jun 22nd 2016
---
Mequon, WI - June 22, 2016
When initially introduced, eWizPro represented the first major technology leap from the manual, labor-intensive fill/credit process that many casinos have used, and still use today.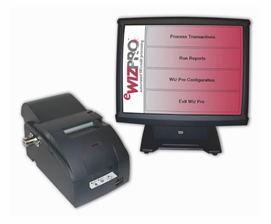 "Customer need was the driving force behind our development of the eWizPro solution," said Jim Holtz, Data Financial, Inc. President and CEO. "The need for a stand-alone fill and credit audit system strongly exists, and will for years to come. Customers have told us they are tired of machine jams, custom forms and lack of controls. The eWizPro product addresses all of these concerns at a very economical cost," Holtz said.
Data Financial, Inc. earned approval from the Nevada Gaming Control Board for eWizPro in 2008 and has provided the system to casinos throughout the US. "After introducing this solution", Holtz continued, "we quickly realized the efficiencies and security of eWizPro made it a good fit for all sized properties. We are proud that it is in use in major Las Vegas casinos to small casinos throughout the US, Canada, and the Virgin Islands."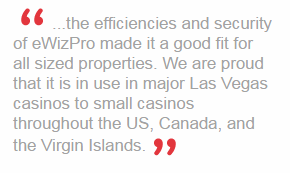 The eWizPro hardware and software solution was designed and built to adhere to the strictest gaming security standards. Secure printers safeguard fill and credit receipts. Casino employees are required to log in to the system with a unique pin number. eWizPro prints two, logo-imprinted copies of the fill/credit slip for processing, while a third copy is printed and stored within the secure printer. All data is stored on the eWizPro's internal hard drive, and can be exported to other applications and systems for review.
System features include:
Easy-to-Use Menus. A touch-screen display is used to enter fills and credits. The user-friendly screen replaces custom-imprinted forms and hand-written data entry. The system can be easily and quickly integrated into the casino environment.
Security. The eWizPro was designed and built to adhere to the strictest gaming security standards. A custom locked journal printer safeguards fill and credit receipts, and casino staff members are required to log into the system with a unique PIN number.
Advanced Auditing Functions. Built-in auditing functions improve accuracy and efficiency. Daily reports are generated automatically and specific transactions can be queried with ease. The paper and electronic audit trail relieve the tedious work of audit functions.
For complete product specifications, to schedule a web demonstration, or request a trial, contact John Malaczynski at 1-800-334-8334 or email jmal(at)datafinancial(dot)com.
About Data Financial, Inc.
Founded in 1983, Data Financial, Inc. provides products, systems solutions, and custom software to gaming, banking and commercial customers. The company offers consultation, custom software, and a wide selection of casino products to the gaming industry. From integrated systems for table games processing and complex solutions for coin and currency handling, to game tables and playing cards, Data Financial, Inc. represents most major manufacturers and offers technical support throughout the United States.