FOR IMMEDIATE RELEASE
In a presentation at the office of data Financial, Inc. in Mequon, WI the company was presented the prestigious 2015 Supplier Of The Year Award by Associated Bank. Associated Bank is the largest Wisconsin headquartered bank with corporate offices in Green
Apr 27th 2016
---
Mequon, WI - April 27, 2016
Data Financial, Inc. has been a supplier to Associated Bank since 1998 offering products and services for cash handling and cash automation. Data Financial, Inc. is a Midwest distributor of products for financial institutions offering equipment and systems produced by Glory Global Solutions and other manufacturers. The company provides products and technical services to more than 200 Associated Banc-Corp offices throughout the US.
"To be recognized as Supplier of the Year by an organization like Associated Bank is an incredible honor," according to James Holtz, President of Data Financial, Inc. "Associated Bank is one of the most respected institutions in our area, consistently communicating a strong commitment to delivering value in products and services in all they do," Holtz said. Receiving this award from an organization like Associated Bank is truly a compliment and a distinction."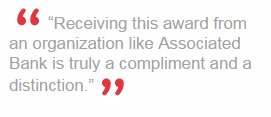 The award was presented by members of the Associated Bank corporate purchasing department to Holtz and the office staff in the Mequon, WI offices. "I was proud to accept this award with members of our staff on hand, it would not have been possible without the commitment of all of my field service engineers and our internal staff. All Data Financial employees demonstrate a high level of dedication to our customers – this award would not be possible without that effort," Holtz said.
Holtz continued, "This recognition is humbling and gratifying and serves as a reminder that exercising a customer focused commitment to providing best solutions remains a time-tested value. Today more than ever, the technology and products we offer provide financial institutions with branch design options that optimize the customer experience, provide for greater security, and promote overall efficiencies."
About Data Financial, Inc.
Founded in 1983, Data Financial, Inc. is a value-added equipment distributor offering cash handling related products and support services for multiple manufacturers including Glory Global Solutions, Diebold, Giesecke & Devrient and Tidel. The company offers cash handling solutions for banking, retail, gaming and hospitality, including system design, custom program applications, nationwide installation, and technical support. World-wide, as cash needs and use grows, the company continues to expand available solutions through diverse business practices. The company's eCommerce division has supplied products to businesses around the world that manage, count, authenticate, and secure currency, including polymer notes.